Hooded plover numbers continue steady climb on Yorke Peninsula
News article
|
04 July 2023
Yorke Peninsula is home to more than a quarter of South Australia's threatened hooded plover population and the latest monitoring results show another uptick in numbers on Narungga Country.
The results are in from BirdLife Australia's 2022 biennial hooded plover count, revealing 292 of the state's 803 adult hooded plovers live on Yorke Peninsula. Seven more 'hoodies', as they're affectionately known, were counted on Yorke Peninsula compared to the 2020 count.
"Given that Yorke Peninsula saw a large jump between 2018 and 2020 of 37 adult hooded plovers, it's promising to see this large gain has not only been maintained, but added to," said Northern and Yorke Landscape Board's Janet Moore.
"With more than a quarter of the state's hoodies calling Yorke Peninsula home, it just shows how important this region is for the future of this vulnerable species."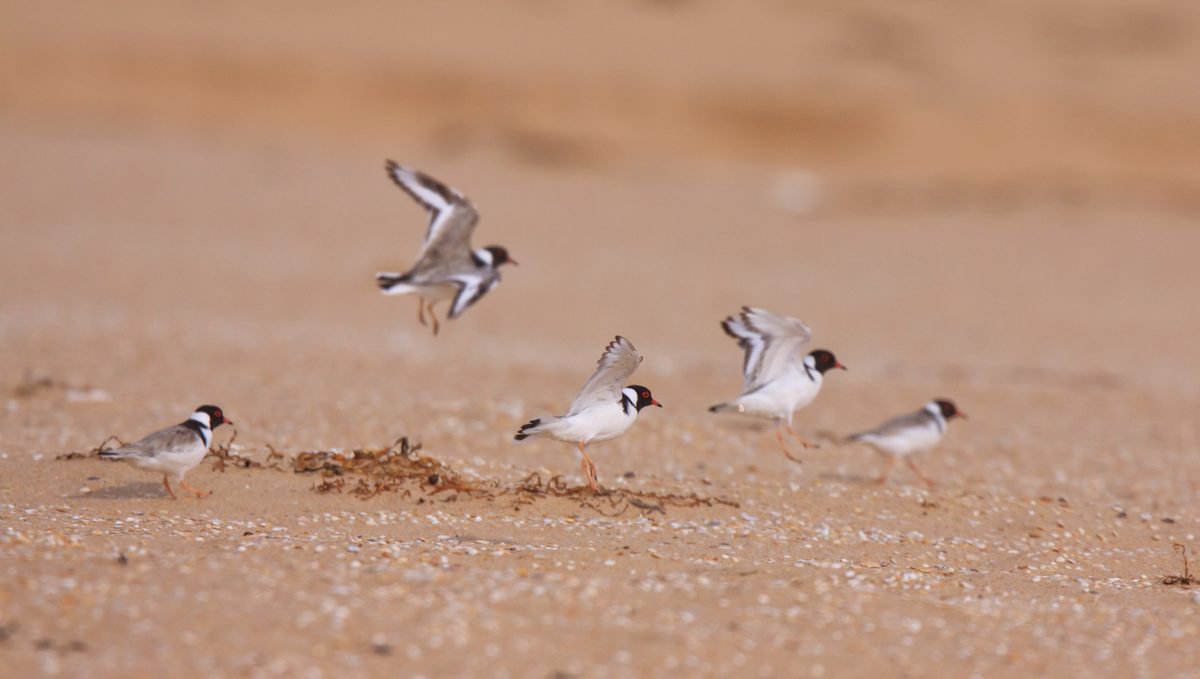 Through BirdLife Australia's Beach-nesting Birds program, the biennial count on Yorke Peninsula is part of the Marna Banggara project, which is jointly funded through the Northern and Yorke Landscape Board, the Australian Government's National Landcare Program, the South Australian Department for Environment and Water, WWF-Australia and Foundation for National Parks & Wildlife, in partnership with the Narungga Nation Aboriginal Corporation.

The odds are stacked against hooded plovers, a threatened shorebird that lays its eggs in shallow scrapes in the sand. Vulnerable to off-leash dogs, vehicles, beach-goers and predators, they have only a 2.5% chance of reaching adulthood. They spend 28 days incubating eggs on the sand and then the chicks need 5 weeks to forage for food near the water's edge before fledging.
Volunteers along Yorke Peninsula's coastline are on high alert during the breeding period, between August and March, which is the busiest time on our beaches.
"Even though the numbers are slowly increasing, the hoodies still need our help in protecting their nesting habitat," said Nanou Cabourdin, Friends of Hooded Plovers Volunteer Regional Coordinator.
Ms Cabourdin worked with the Northern and Yorke Landscape Board to rally more than 40 volunteers who covered 355 kilometres as part of the 2022 biennial count in November last year.
"I want to thank all the biennial count volunteers for their big effort, as they often had to battle bad weather. Many covered more than one route and because of that we accomplished our goal to cover all of Yorke Peninsula's coastline," she said.
The count revealed hooded plovers on beaches where they had not been seen before, including at Pine Point and one lucky volunteer even counted 31 birds on a 10km stretch of beach at Sturt Bay.
Read the Report on the 2022 Biennial Hooded Plover Population Count.