Marna Banggara: Creating a safe haven for native species
Marna Banggara is an ambitious project that aims to restore southern Yorke Peninsula's spectacular landscape.
By returning locally extinct species to the area, we hope to reinvigorate the ecological processes that ensure the bushland's health and provide flow-on benefits to agriculture and the local economy.
The project reached a significant milestone in 2021, with 40 brush-tailed bettongs translocated to Dhilba Guuranda-Innes National Park. One of Australia's rarest marsupials, the brush-tailed bettong was reintroduced to mainland South Australia after being locally extinct for more than a century. Another three translocations from Wedge Island and Western Australia took place in June and July 2022 and June 2023, taking the translocation total to 193 yalgi, as they're known to Narungga people.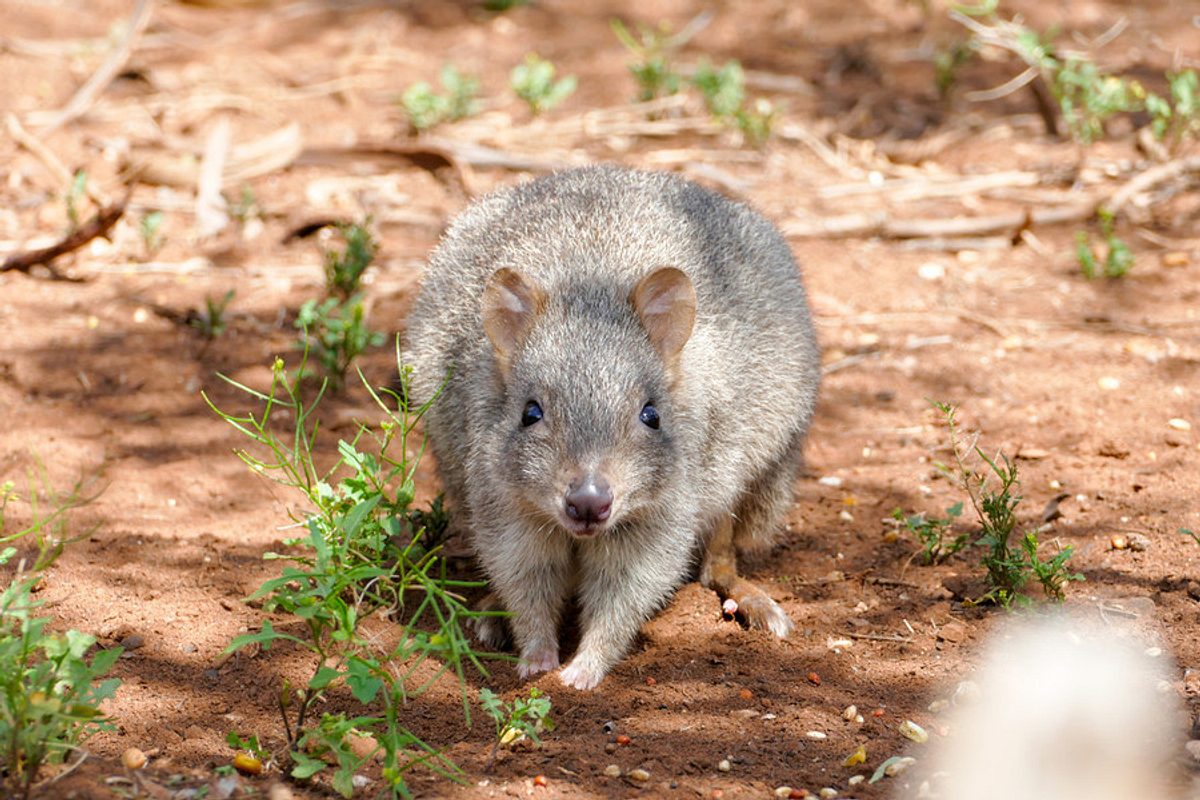 Why southern Yorke Peninsula?
Known as the 'foot', southern Yorke Peninsula has distinctive geography that makes it an ideal location for the reintroduction of native species. Surrounded by sea on three sides and with uninterrupted farmland to the north, the 170,000-hectare 'mainland island' provides an isolated area with large areas of high quality native vegetation. Brush-tailed bettongs like to take up residence in dense, shrubby scrubland, where they can find shelter and a plentiful source of leaf litter and sticks for nest building.

Ensuring a safe return
The biggest threat for the returned native species is exotic and feral predators, including foxes and feral cats. Landscape-scale fox control work began about 15 years ago to prepare for the return of Tammar Wallabies to Dhilba Guuranda-Innes National Park and continues today.
Construction of a 25-kilometre fence across the foot of the Peninsula will limit these animals re-entering the project area and together with continued predator management, is expected to support agricultural productivity, by improving lamb survival rates.
Benefits to agriculture and the local economy
Marna Banggara aims to reintroduce brush-tailed bettongs, southern brown bandicoots, red-tailed phascogales and western quolls, as well as augment the Peninsula's population of barn owls.
It is anticipated that small native predator species, like the red-tailed phascogale, western quoll and barn owl, will benefit agriculture through the control of rabbits and house mice. Less mice will reduce crop damage and baiting costs, while controlling feral cats will reduce the occurrence of toxoplasmosis and sarcosporidiosis in the environment.
In time, it is hoped that the Peninsula's status as an ecotourism destination will flourish, with increasing tourist numbers boosting the Yorke Peninsula's economy.
Marna Banggara
The Great Southern Ark project was renamed Marna Banggara to recognise the Narungga People, the Traditional Custodians of Guuranda (Yorke Peninsula).
The terms originate from Narungga dialect with marna meaning 'healthy or prosperous' and banggara signifying 'Country', reflecting the project's aim to achieve improved economic and agricultural outcomes by enhancing biodiversity and the health of the district's natural systems.

View the Marna Banggara website. For further information, contact the Northern and Yorke Landscape Board in Clare on 8841 3444 or email ny.landscapeboard@sa.gov.au.
Lead agency
Northern and Yorke Landscape Board
Funding partners
This project is jointly funded through the Northern and Yorke Landscape Board, the Australian Government's National Landcare Program, the South Australian Department for Environment and Water, WWF-Australia and Foundation for National Parks and Wildlife. Other partners actively involved in developing and delivering the project include Regional Development Australia, South Australian Tourism Commission, Zoos SA, FAUNA Research Alliance, BirdLife Australia, Nature Conservation Society of SA, Narungga Nation Aboriginal Corporation, Primary Producers SA, Primary Industries and Regions SA, Conservation Volunteers Australia, Legatus Group, Yorke Peninsula Council, Yorke Peninsula Tourism and the Scientific Expedition Group.
More information
155 Main North Road, Clare SA 5453
8841 3444