Optimal time to spy suspicious summer grasses
News article
|
20 January 2022
Declared invasive summer grasses that impact grazing profitability and outcompete native vegetation are now active across the Northern and Yorke region.
The Northern and Yorke Landscape Board is carrying out strategic roadside control of several declared summer grass species and encourages land managers to help stop their spread.
"Now is the best time to identify and control some of our region's most concerning summer grasses, like African Lovegrass, Buffel Grass, Coolatai Grass and Innocent Weed," said Northern and Yorke Landscape Officer Janet Moore.
"We are working to restrict their spread through targeted roadside control and surveying for new infestations, but landholders can also play a key role in keeping these persistent weeds at bay.
"As some declared grasses look similar to native species, the first step is to correctly identify any suspicious-looking plants and our landscape officers can help with this."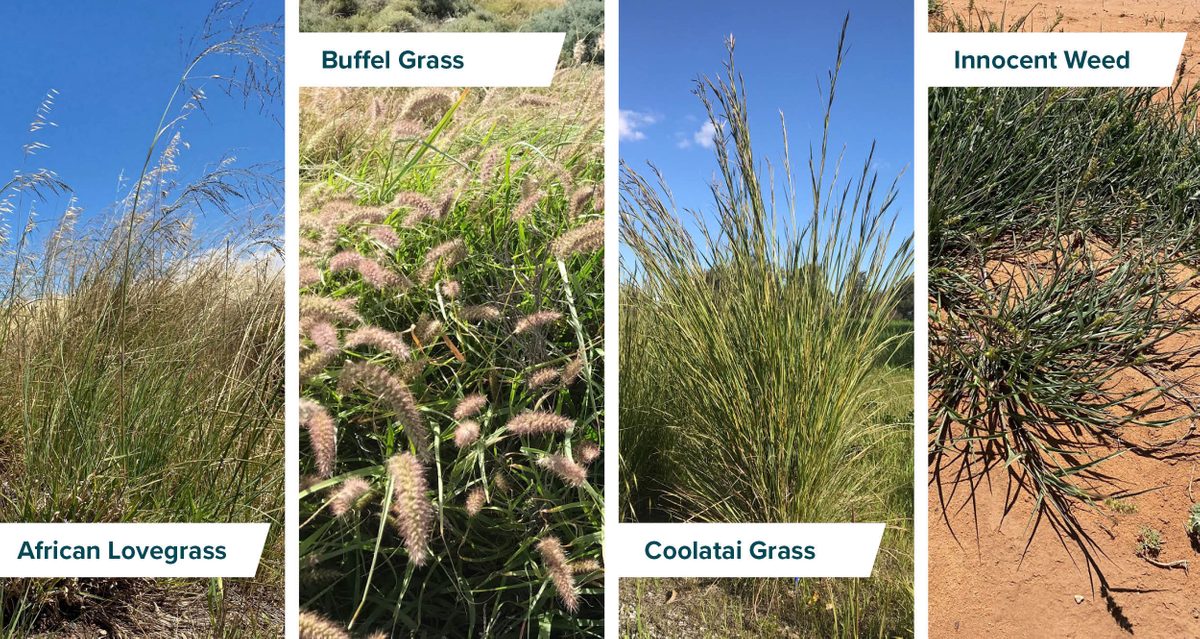 Declared summer grasses can first appear along transport corridors such as roads and railways, as they can be carried long distances and quickly germinate on road reserves. They can also form dense swards if they infest pastures, presenting costly problems for graziers.
"Most declared summer grasses are unpalatable to livestock and tend to increase in abundance under grazing," said Ms Moore. "They make efficient use of any available water in the summer months and outcompete native and pasture species. If this happens, the carrying capacity of an affected area can be reduced, which has a direct impact on a farm's productivity."
Following careful hygiene practices is another way farmers can prevent declared summer grasses from spreading, according to Chris Butler, Roseworthy Rural's Senior Agronomist.
"Know where your hay is coming from," he said. "And keep your incoming livestock in a designated area and hand feed them for a couple of days so that you can manage any weed seeds that they may have ingested.
"It's also a good idea to clean your vehicle and boots before you return to your property if you've been somewhere that is infected with these weeds. I clean my vehicle in a spot where I know I can manage the weeds."
Land managers can seek help to identify declared summer grasses and for advice on controlling them from the Northern and Yorke Landscape Board on (08) 8841 3444 or email ny.landscapeboard@sa.gov.au.