Unlocking cultural fire practice to rejuvenate Narungga Country
News article
|
29 June 2023
Dozens of small cultural burns were conducted across Guuranda (Yorke Peninsula) last week, reinvigorating cultural practice on Nharangga Banggara (Narungga Country).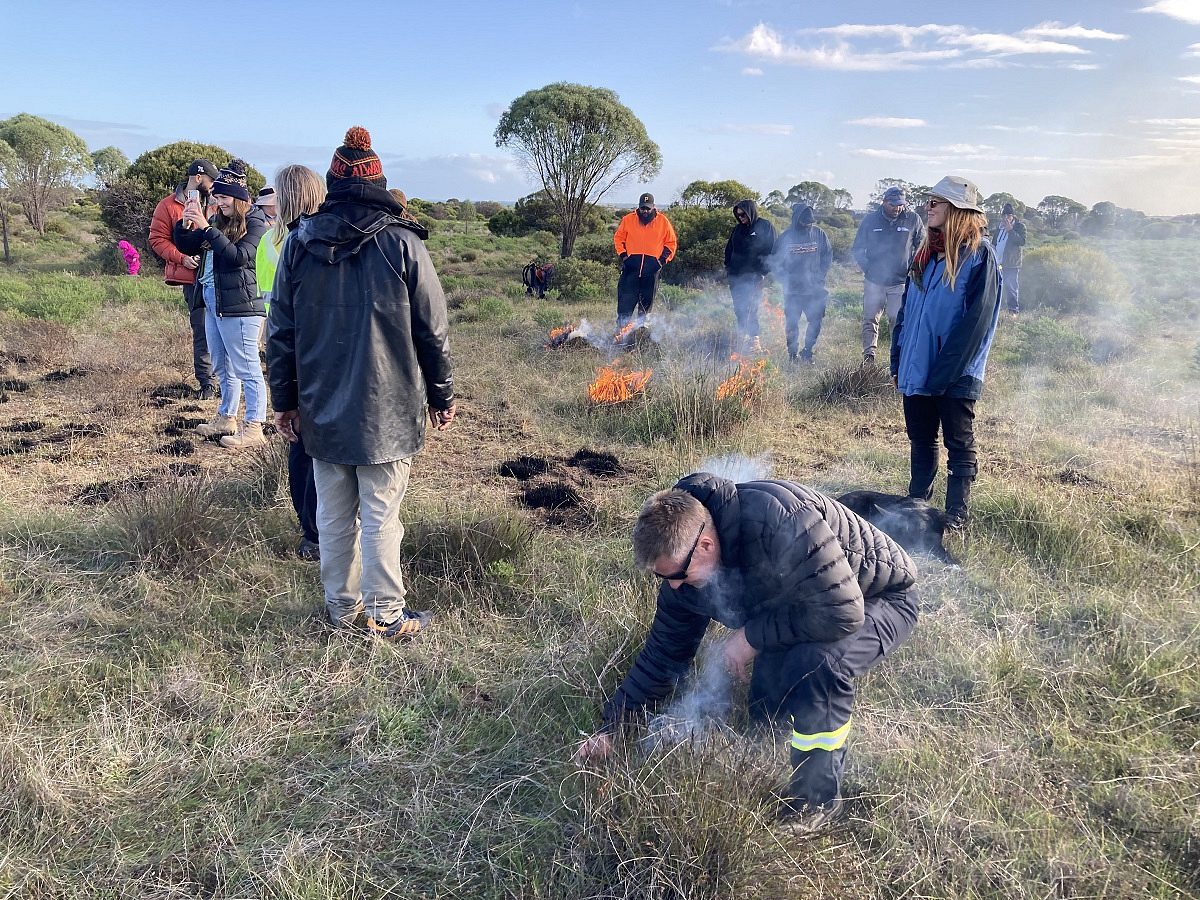 It is just the second time in recent history that cultural burning has been performed on Yorke Peninsula, signalling a growing movement to unlock this important Narungga land management technique.
During five days in mid-June, Narungga men and women ignited patches of native grasses and similar understorey species across 4 locations in Ardrossan, Point Pearce and Minlaton as part of a Yorke Peninsula Council project funded through the Australian Government's Preparing Australian Communities – Local Stream. They were led by renowned fire practitioner Victor Steffensen from Firesticks Alliance, who has now worked with Narungga people on three occasions in the past 18 months.
Northern and Yorke Landscape Board Ranger and Narungga man Farrin Miller was part of the week-long exercise.
"Returning traditional land management ways to Narungga Country is a step forward in restoring this beautiful place to one with thriving native plants and animals for future generations to enjoy," he said.
The first cultural burn for the week, between 19 and 23 June, was held at Ardrossan Grasslands by Narungga lead fire practitioners Peter Turner and Clem Newchurch, who shared the importance of fire for Country and how the parklands have regenerated since the first burn conducted there in May 2022. The Ardrossan site is ecologically significant, with at least 89 native plant species in the 6.8 hectare area. Last year's burn has helped to reduce thatch, giving the native species space to germinate.
The other burns were held at Wadgedin Scrub at Point Pearce, on private property at Minlaton and at Minlagawi Gum Flat Reserve. Whilst the rain prevented burns at other locations, Victor explained the importance of storm burns due to Yorke Peninsula's stony land and plant species, with the need for cold temperatures and soaking rains to ensure burns are slow-moving and controllable. Participants learned how Yorke Peninsula's native grasses cure mid to late winter, and burning at this time is crucial to protecting the health of the soil.
The project aims to build cultural burning knowledge, experience and capacity amongst Narungga people and also raise awareness in the broader community about the importance of the practice, its role in reducing wildfire risk and keeping Country healthy through burning in the right way. These messages will be shared through a series of short films to be produced by Yorke Peninsula Council and premiered at upcoming community workshops.