Goyder's Line: Building Drought Resilience into Transitional Country
The Goyder's Line project was designed to support the region's most vulnerable farmers in adapting to changing climatic conditions - progressively drier conditions and more frequent drought. It aimed to increase their understanding of landscape function, reinforce the links with productivity, provide a range of management options during dry times, and ensure they have the knowledge and skills to adjust their business operations.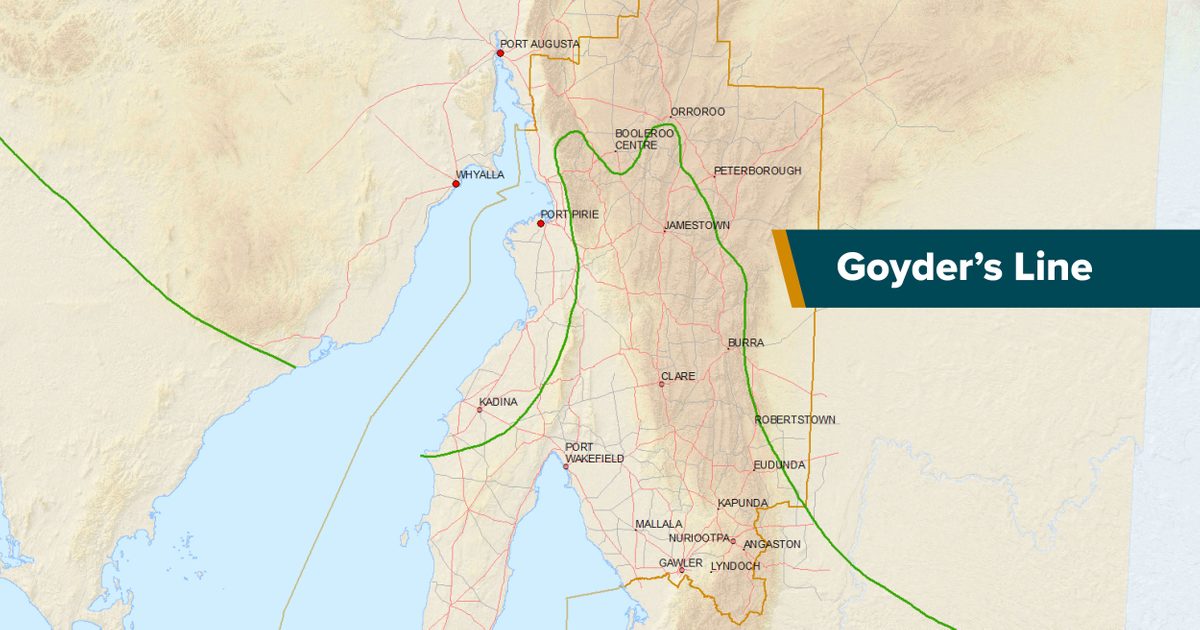 Project outcomes
The project delivered a range of extension and on-ground activities aimed at increasing farmers' ability to manage their land, their stock and their businesses, through changing times.
The activities cut across all aspects of a farming operation; land resource management of soil, on-farm vegetation and biodiversity, climate change, finance and business. The project:
Engaged landholders via one-on-one discussions to communicate program goals.
Delivered extension courses and a range of engagement activities to increase awareness, build capacity and enable land managers to enact sustainable agricultural practices.
Developed and delivered on-ground works projects resulting from extension courses and workshops and property plan recommendations.
Created awareness and engagement via field extension activities, including soil pits and a grassland management trial.
Throughout the 12-month project, the Northern and Yorke Landscape Board delivered:
Extension
15 workshops, 7 field days and 3 Agri forums to a total of 1182 attendees
Soil tests
69 soil samples with sample testing and analysis reports, working in collaboration with PIRSA.
Containment area grants
$32,000 in grants.
Funding towards 2 water tanks, 12 troughs, 10 stock feeders, more than 15kms of fencing and kilometres of water pipe.
58,839 hectares of land now protected during times of drought.
Property Management Plans
15 property management plans.
$157,500 for on-ground funding for the 15 participating landholders.
13.8km fencing, 29 troughs, 13 water tanks, 20km water pipeline, 12 stock feeders, 2 water displacement projects.
52 property maps created by Northern and Yorke Landscape Board for the property planning process.
41,725 hectares now managed to best practice standards.
Habitat protected and revegetated
3.5 ha of shelterbelts.
3,200 plants.
40 ha remnant vegetation.
Funding partners
Federal Government's Future Drought Fund- Natural Resource Management Drought Resilience Program.
Programs are being delivered in accordance with the principles outlined in the Future Drought Fund's 2020-24 Drought Resilience Funding Plan, including as far as practicable, a requirement of co-investment to maximise program outcomes.

The Drought Resilience Podcast
Listen to honest accounts of the drought from farming families in Orroroo, Eudunda and Keyneton via The Drought Resilience Podcast. This podcast, produced in partnership with Talking Livestock and Voice it, features four South Australian sheep producers who have battled consecutive years of drought. Each interview reveals how they navigated their businesses and families through the financial and mental hardships, including practical coping strategies such as containment feeding. The Drought Resilience Podcast is supported by the Northern and Yorke Landscape Board, through funding from the Australian Government's Future Drought Fund and National Landcare Program.
More information
Landscape Project Officer
Libby Duncan
0456 755 346