A much-needed drink: How the flood events are benefitting floodplain and wetland vegetation
Blog story
|
27 July 2023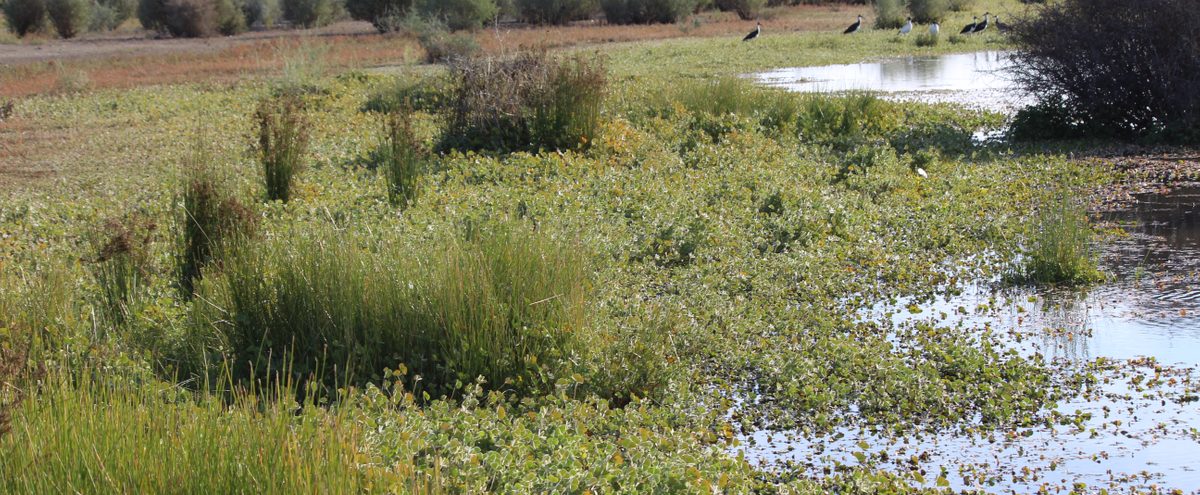 The high flow and flood events experienced in 2022 and 2023 had a significant influence upon land alongside the Murray River. The Riverland floodplains and wetlands received a record influx with water reaching some areas for the first time in 70 years! As floodplains re-emerged from the flood, our ecologists have seen an abundance of plant life bounce back, and even appear in areas for the first time in years.
Why are floods good for floodplains?

Many floodplain plant species found in the Riverland are flood-dependent, meaning they rely on flood events rather than rainfall to emerge. Certain species, including herbs (non-woody plants), perennials (vegetation that lives for more than 2 years) and long-lived vegetation (trees) need more than just rainfall to grow and thrive.
Not only are floods important for these particular flood-dependant species, but established plants including black box and river red gums need a regular drink to sustain them in between dry periods. Their seedlings also rely on flood waters to germinate and further flooding is required to ensure the young trees grow to maturity. Over time, frequent flooding provides the local ecosystem with a diverse variation in the age of trees, which is important to guarantee future generations. Diversity of plant species is also important to ensure enough resources are available for animals that use them for food, nesting and habitat.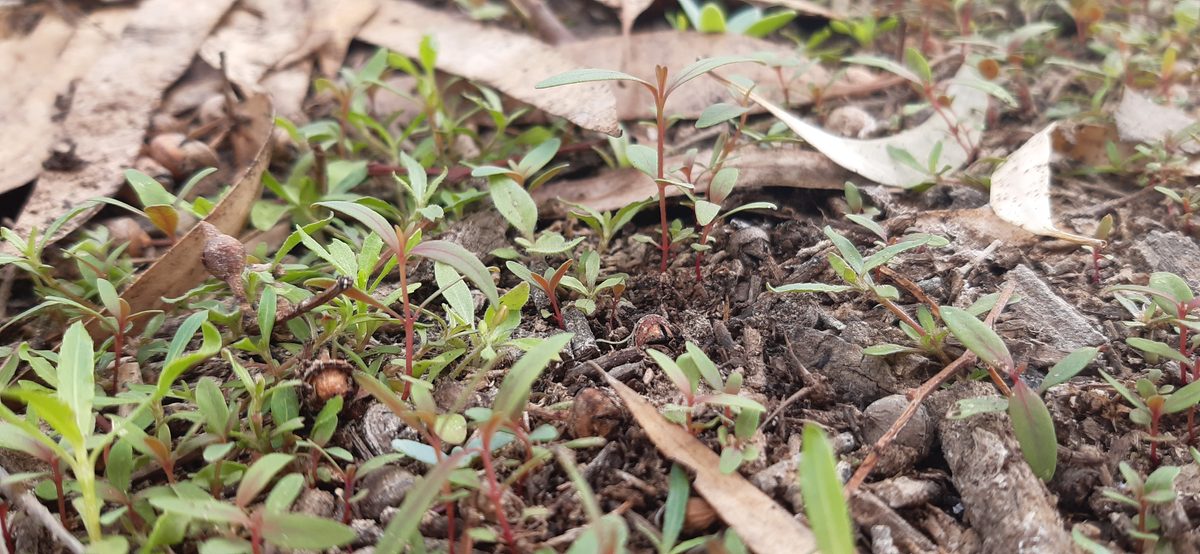 What plants might I see on a Riverland floodplain at the moment?

Some of the most common native species and the first to emerge after this flood include:
Lesser joyweed (Alternanthera denticulata) – May be prostrate (sprawling) or erect (upright) and up to 30cm tall. When young they are often bright green, with red colours found on older plants. This herb can dominate floodplains and has small, fluffy burr-like flowers that grow out of the stem. The common name is deceiving as this herb is an important native plant which is a known food resource for the vulnerable regent parrot.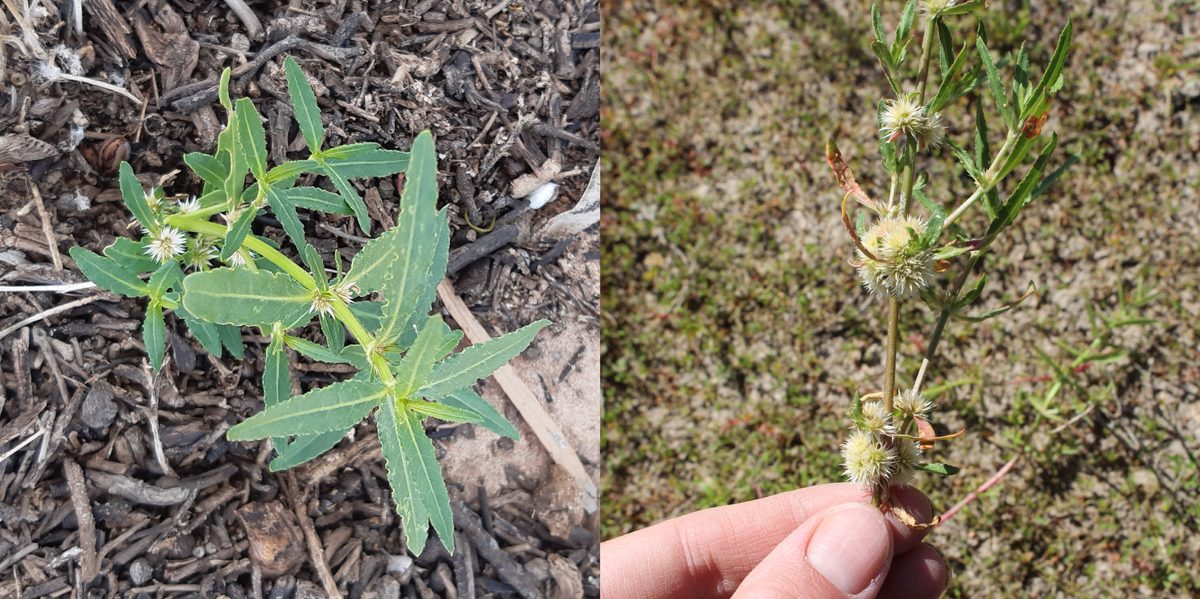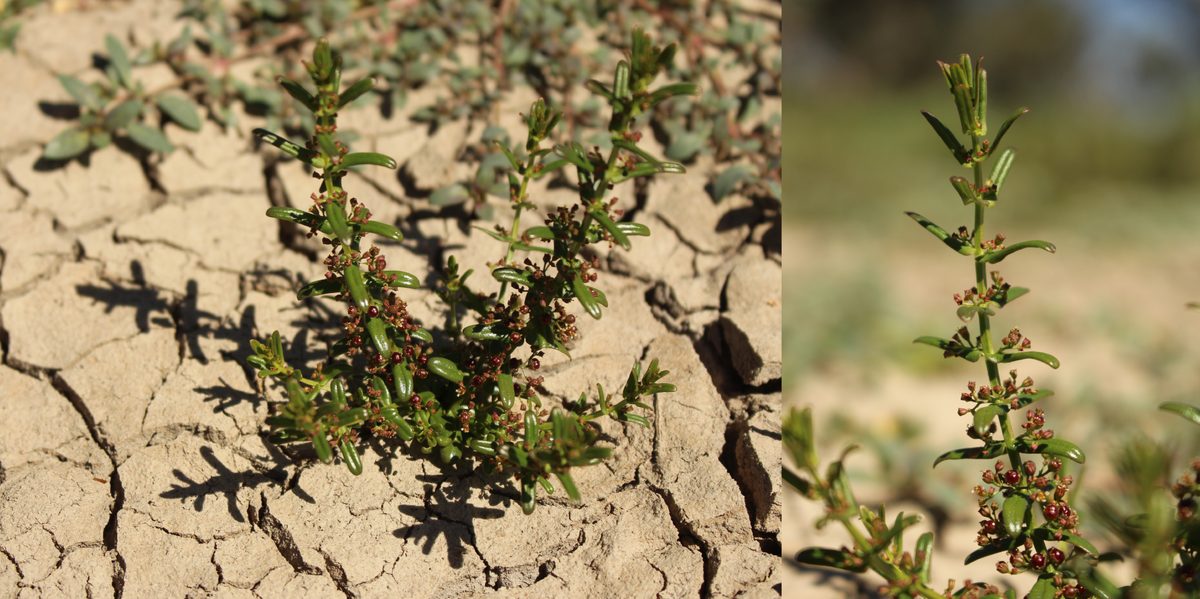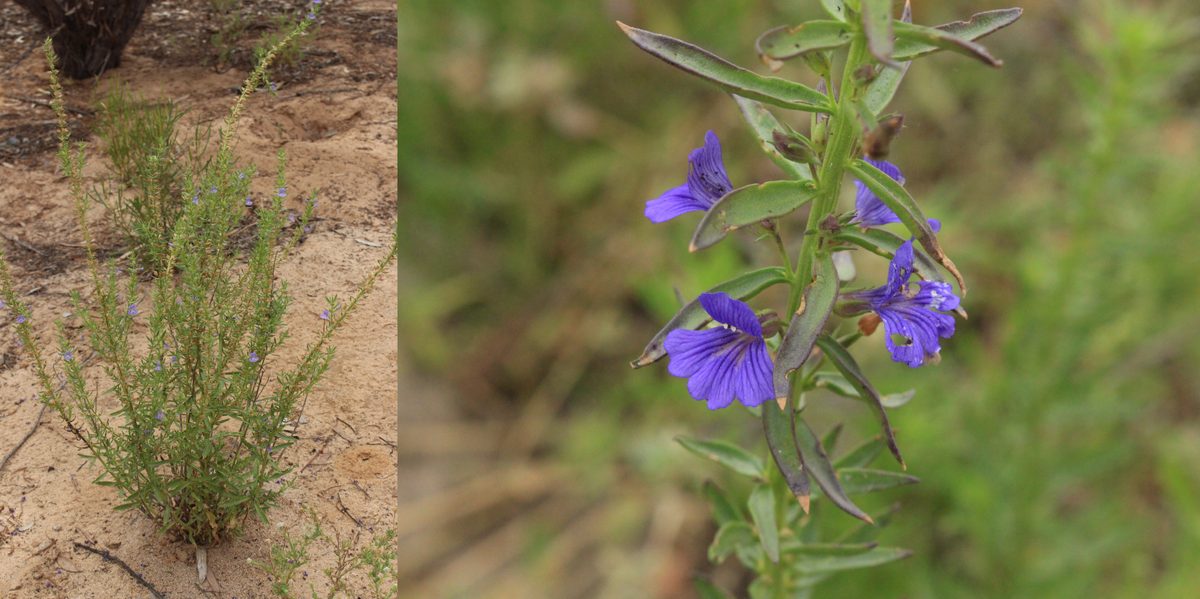 Sneezeweed species (Centipeda spp.) – Multiple species grow in the Riverland, including prostrate (sprawling) and erect (upright) varieties. Sneezeweed plants are green, with jagged edges on leaves and small cream-yellow flowers that have no petals. They have a strong aroma when touched or disturbed.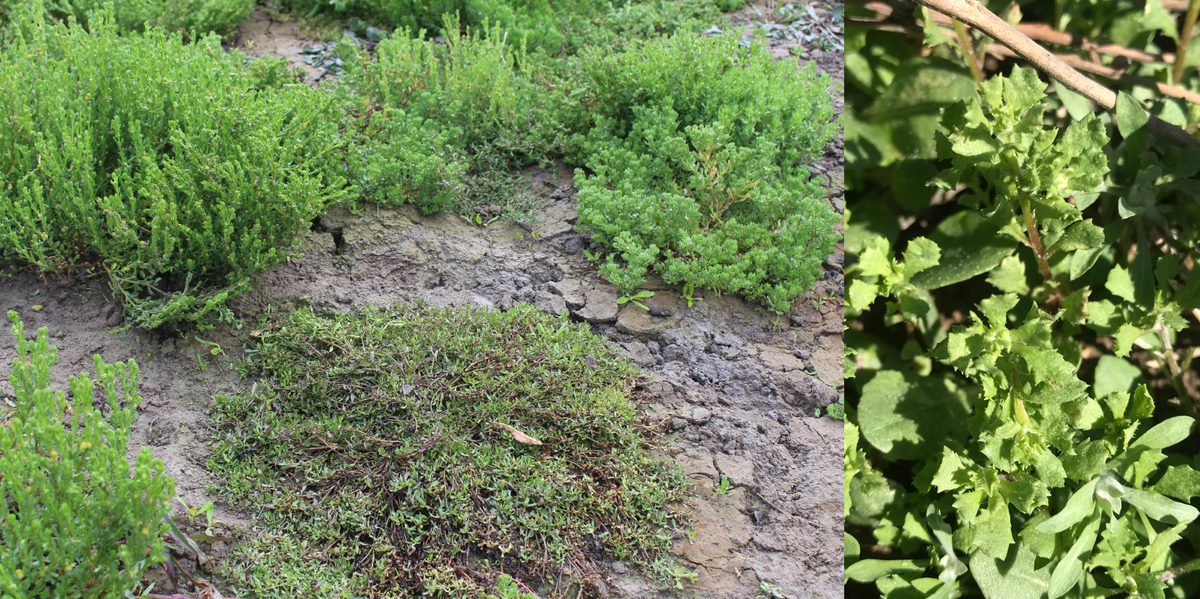 In saltier soils or higher floodplains you may find:

Copperburr (Sclerolaena spp.) – There are several species of copperburrs in the Riverland, commonly known as Bindyi. These small prickly shrubs are characterised by their burrs and each species has a unique shape and numbers of spines. Black Roly-poly (Sclerolaena muricata) is currently showing up across many floodplains in the Riverland.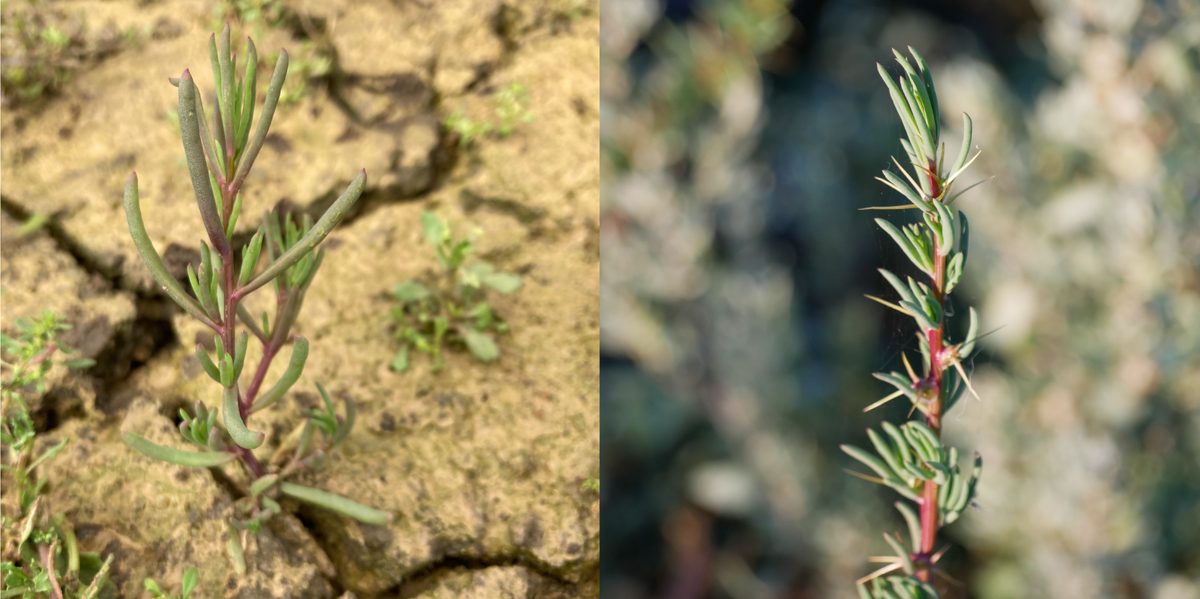 Flat-top Saltbush (Atriplex lindleyi) – Also known as bladder saltbush, this small shrub grows to about 30cm tall. Its blue-grey colour makes it stand out against surrounding bright green vegetation. Flat-top saltbush fruits are small pale cream bladders that cover the plant, dropping off as they mature and replenishing the seed bank.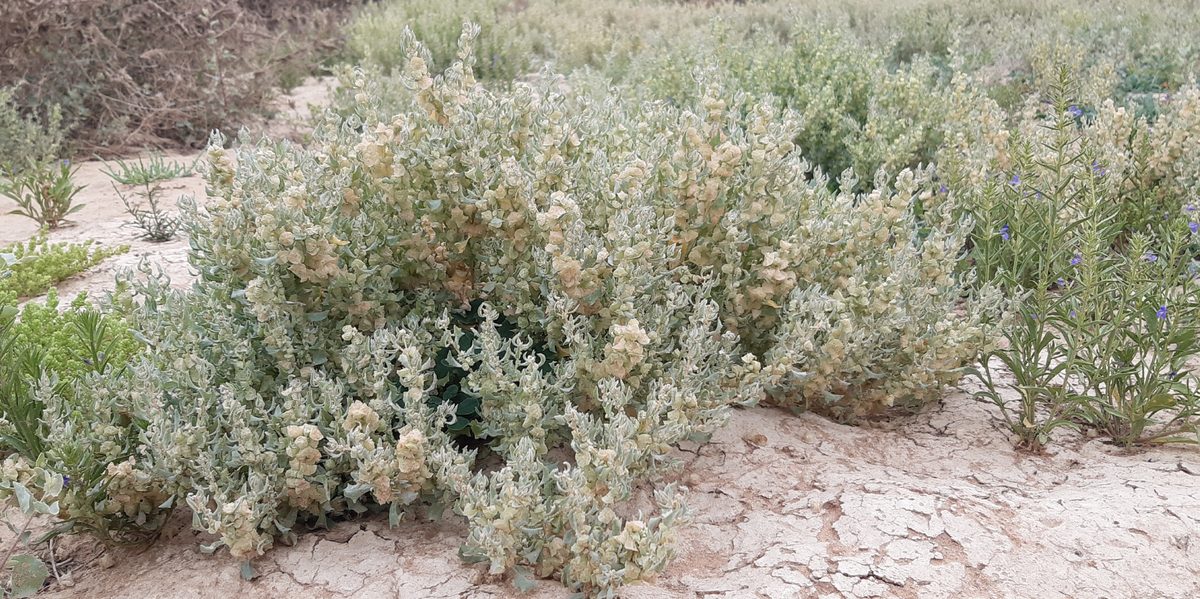 And we can't forget our 3 main floodplain tree species! You're probably more familiar with the adult versions, but keep an eye out for seedling and saplings: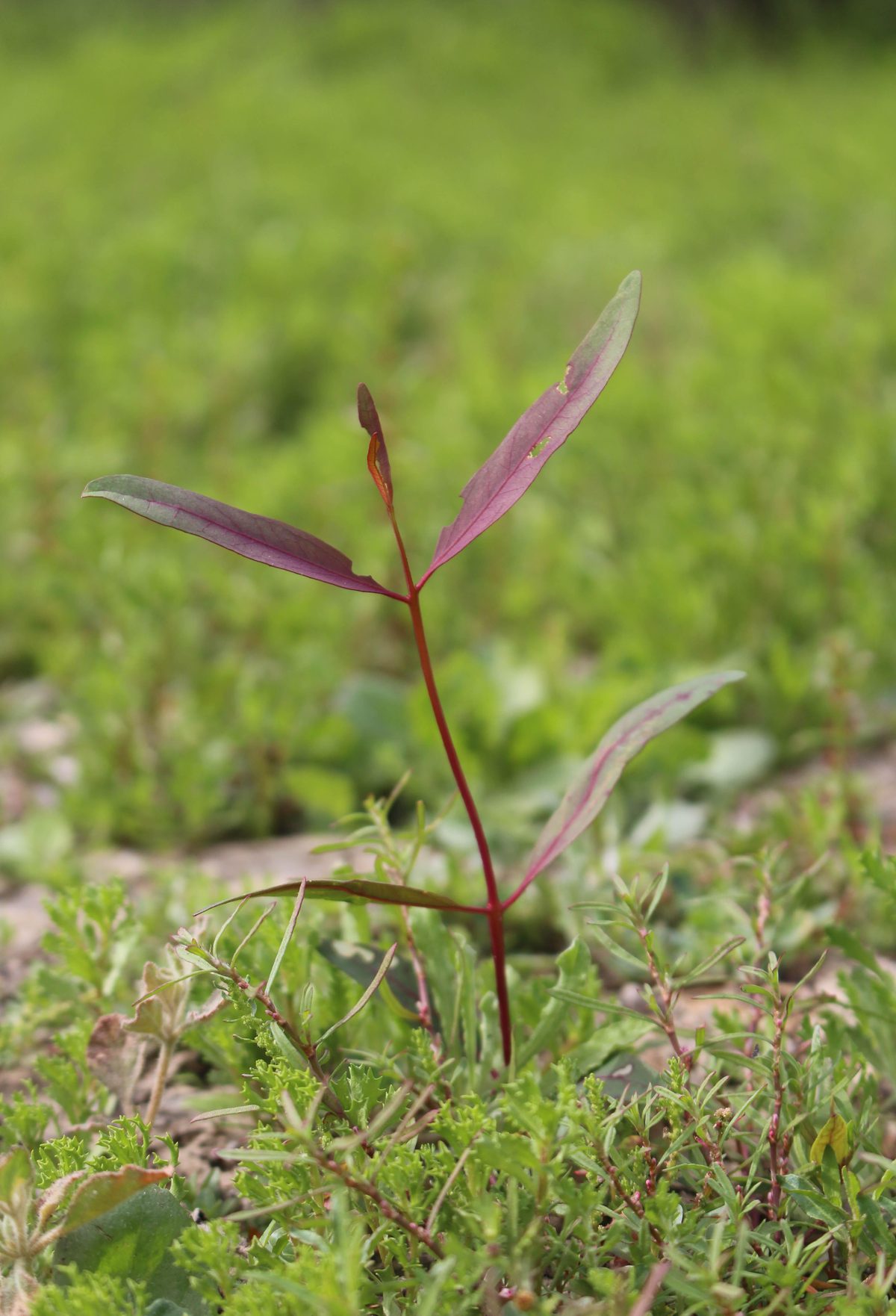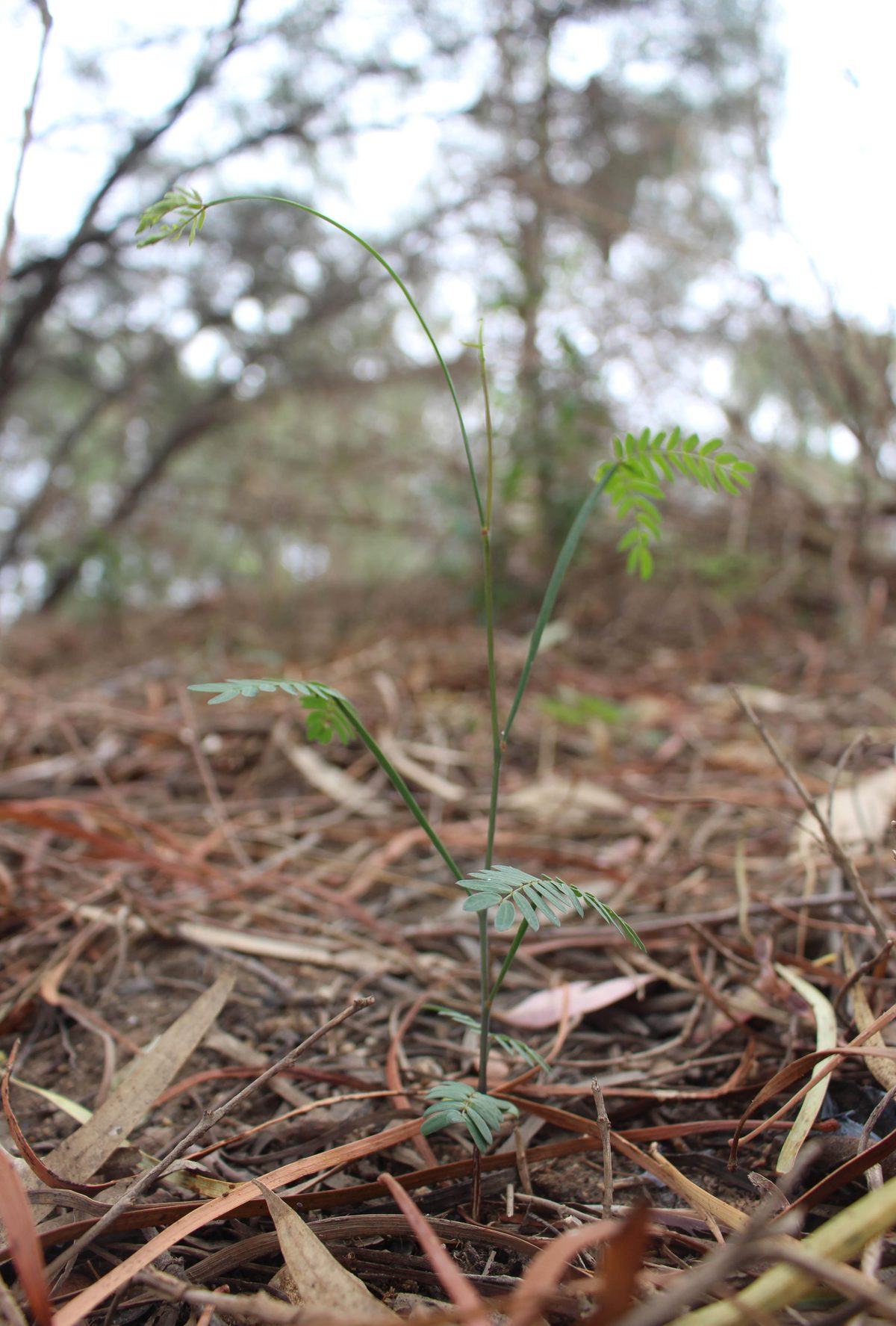 What about plants that died in the flood, will they come back?

While much of the flood affected vegetation may look dead, many shrubs and trees may in fact be in a state of shock. Vegetation that has spent time under water may have lost its leaves and appear to be dead, but it is possible that the roots are still alive. It takes a while for the internal processes of shocked plants to start functioning again, but many species are already showing signs of new leaf growth which is the first visual sign of recovery.
Vegetation that has actually died is still a valuable source of habitat and food for native animals. Dead shrubs provide perching habitat for birds and shelter for native animals including reptiles, frogs and insects. Many native insects have a larval stage that relies on plant roots, so these natural functions will actually help to breakdown dead vegetation.
How is the health of Riverland floodplains managed between flood events?
Before the installation of locks and weirs, the river naturally experienced times of both floods and dry that characterise floodplain and wetland ecosystems. Since river regulation, the landscape board's wetland team has been responsible for sustaining the health of wetlands and floodplains. The team works to deliver environmental water (e-water) to floodplain and wetland sites around the region to simulate flood events, and also plays an important role in monitoring native flora and fauna to ensure that native ecosystems are able to thrive now and into the future.