Population of rare metallic sun-orchid being monitored
News release
16 November 2021
The Murraylands and Riverland Landscape Board have been monitoring the nationally endangered metallic sun-orchid (Thelymitra epipactoides) around the Tailem Bend and Meningie regions. These areas are a stronghold for this very rare plant.
Murraylands and Riverland Landscape Board Restoration Ecologist Kate Graham said there are likely to be fewer than 1,000 of these rare orchids left in the region.
"Other populations are present on the Eyre Peninsula, in the South East and into Victoria," Ms Graham said.
"Many of the populations are small and isolated, which reduces their ability to successfully reproduce and survive.
"The orchids have specific needs, and the sites where the orchids grow require the right vegetation community, pollinators, fungi, and micro-climate to allow them to survive.
"There are significant threats to these orchids, such as grazing by animals including rabbits, kangaroos, stock, and possibly caterpillars and snails.
"Highly invasive weed species such as bridal creeper and perennial veldt grass compete with the orchid at some sites. So protecting and conserving the remaining populations is critical.
"The orchids that we are monitoring were planted in 2016. Orchid experts from Victoria collected seeds and germinated the orchids with their vital fungal partners," Ms Graham said.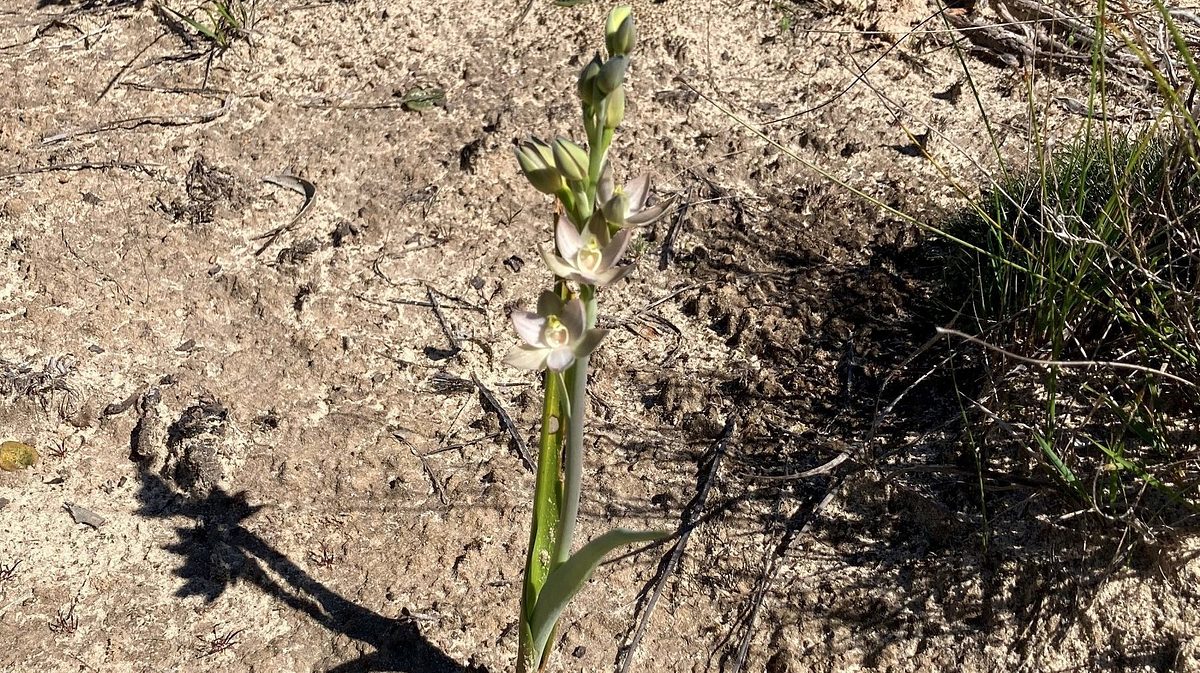 The orchid experts grew more than 120 of these precious orchids. They planted them into protective wire cages on private land, in Coorong National Park, and in council reserves in the Murraylands region to bolster the small, naturally occurring populations.
Ms Graham said spring is the perfect time for monitoring. The orchids flower from September to November, so they are more visible, making monitoring easier,"

This sun-orchid grows to a height of 50 cm, which is tall for an orchid. It produces flower stalks with as many as 20 flowers. It is unusually coloured, ranging from pale bluish to brown with a metallic sheen, hence the name, metallic sun-orchid.
The Coorong District Council are custodians of one of the most critical natural populations of the metallic sun-orchid.
Murraylands and Riverland Landscape Board collaborate with the council and engage specialist weed contractors to remove invasive plants that threaten to outcompete this special and unique orchid.
This project is supported by the Murraylands and Riverland Landscape Board through funding from the landscape levies.