At the Car Wash: Drivers Urged to Clean Muddy Vehicles in the Fight Against Weed Spread
News article
|
07 November 2022
Vehicle owners are being urged to thoroughly clean muddy vehicles after use to help prevent the spread of weeds and soil borne pathogens.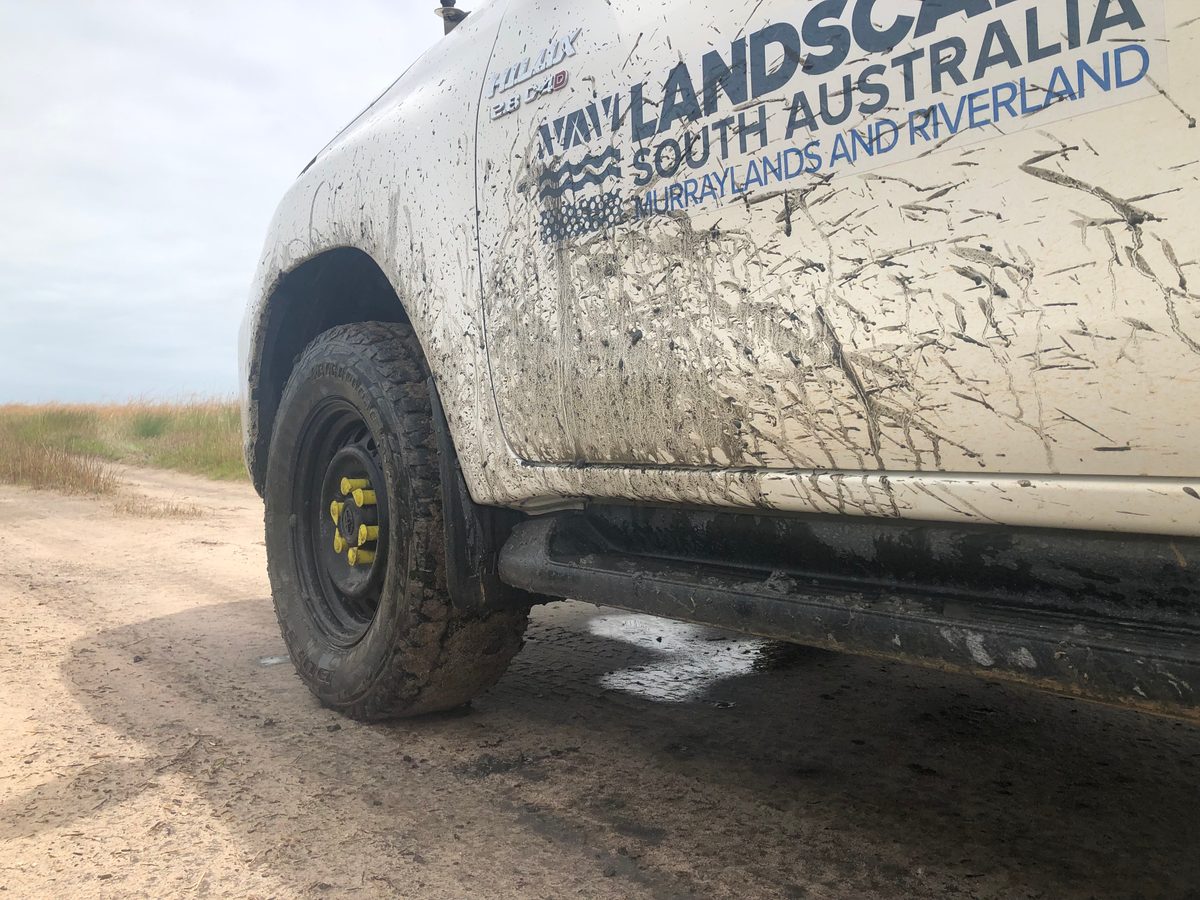 Recent flooding and high-water events experienced along the Murray River have created muddy driving conditions which provide perfect base for weed seeds to stick to. Unsuspecting drivers may be inadvertently picking up unwanted hitch hikers and transporting them to a new location.
District officer Bec Gould from the Murraylands and Riverland Landscape Board said that this can lead to weed seeds germinating on roadsides and private properties, causing new incursions.
"We're particularly concerned that weeds such as buffel grass, African lovegrass, khaki weed, innocent weed, Bathurst burr, golden dodder, caltrop, horehound and three-corner jacks could be spread to new areas as a result of the wet conditions," she said.
"Soil borne pathogens are also at risk of being spread via mud, including Phytophthora die-back which puts native plants at risk".
Ms Gould strongly encouraged community members to thoroughly clean their vehicles after driving in muddy conditions.
"Consider finding a safe area to pull over and remove mud in situ, leaving as much of the potential weed seed risk where it was found. This will help to contain the spread of weeds across our landscape and prevent it spreading to new areas".
"Mud can be removed using a stick or a tool to scrape it off, or you can use a pressurised washer or hose."
"If you need to wash a muddy vehicle at home, select a gravel or bare surface where position weeds can be managed if they emerge. Mud and debris should be collected and disposed of in your general waste wheelie bin," she added.
Vehicle owners should avoid washing muddy cars on grass to prevent weed seeds from germinating in the lawn, and efforts should focus on the underside of the chassis including running board, wheel arches and mud flaps.

Automatic car washing facilities may not accept muddy vehicles and don't always clean the undersides of cars and utes.
For more information about identifying or managing weeds, contact your local Murraylands and Riverland Landscape Board district officer.
The Murraylands and Riverland Lanscape Board's also has a high flows webpage to help the community find information relevant to the current conditions.