Groundwater: making the invisible visible with innovative water efficiency on World Water Day
News article
|
22 March 2022
A desire to maximise efficiency and productivity at their Langhorne Creek Kimbolton Vineyards motivated Director Nicole Clark to investigate ways of using groundwater to supplement river water while maintaining water quality.
The project received funding from the Australian Government's Water Efficiency Program and built on work previously undertaken through the Commonwealth On-Farm Further Irrigation Efficiency (COFFIE) Pilot programme, Nicole hosted Australian Government representatives, which instigated conversations and new project ideas.
Based at Langhorne Creek at the bottom end of the Murray-Darling Basin, water management has always been front of mind for third-generation vigneron Nicole.
After the millennium drought, like many local growers, she elected to access irrigation water through the Creeks Pipeline Company (CPC) and remove their reliance on Lake Alexandrina water.
Mrs Clark said accessing water through the CPC was fantastic. This water supply is much better quality because it has lower salinity levels which assists with producing high quality fruit.
"However, our major limitation has been that we could only irrigate the vineyard with the flow rate supplied at the property connection", Mrs Clark said.
"This meant that it took over 2 days to irrigate the entire vineyard because we had 13 individual irrigation shifts to cover 36 hectares.
"The initial plan was to upgrade the automation and control system. However, with the increasing frequency of extreme heat and losing fruit in recent vintages, we knew we needed to modernise the irrigation system to manage this better.
"We decided to invest in a new 14 megalitre on-farm storage dam and pump station. This would enable higher flow rates to the vineyard and reduce the number of irrigation shifts to 4," she said.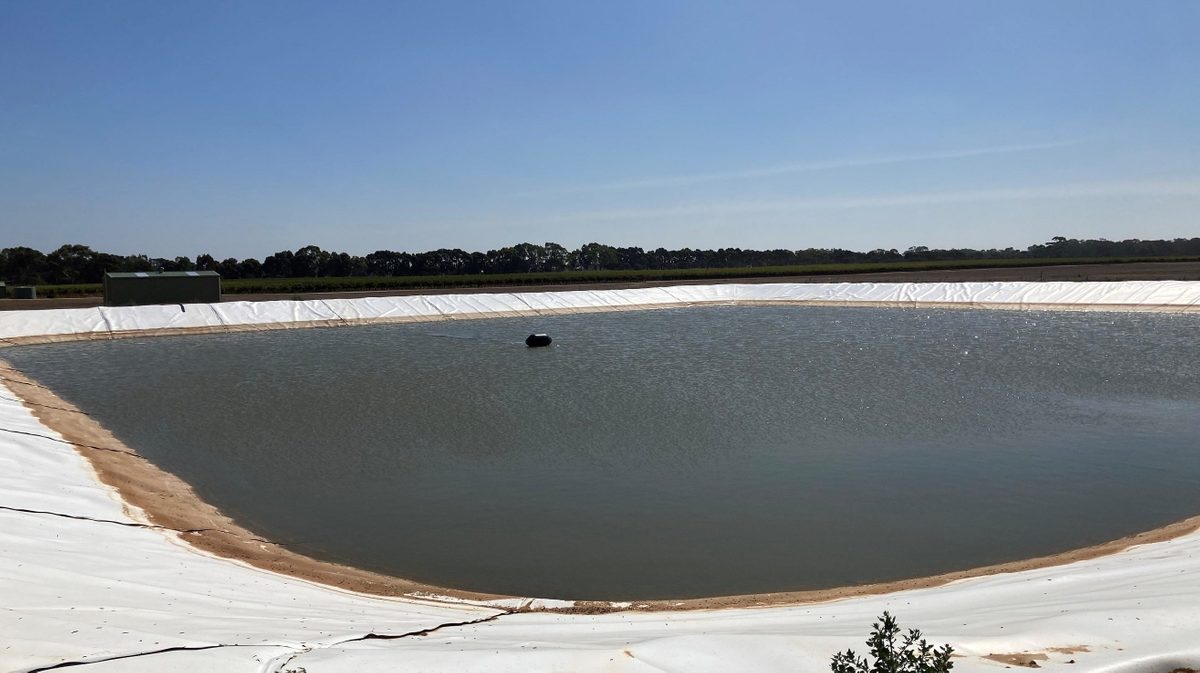 When planning the project and trying to future-proof the property, the discussion turned to increasing the use of licenced groundwater that the vineyard could access.
Groundwater is quite salty so CPC water been the preferred option while River Murray water allocations have been good, resulting in minimal to no use of groundwater for close to 10 years.
However awareness is growing that River Murray irrigation allocations can be impacted by increasing climate variability resulting in allocation restrictions and there is a need to prepare for the risk of this possibility.
One strategy to create a more stable water supply of suitable quality is to use River Murray water and groundwater mixed together.
Working with the Murraylands and Riverland Landscape Board, an assessment of how much groundwater could replace River Murray water when mixed together to meet the required water quality standard was undertaken. The mixing would occur in the new storage dam.
Murraylands and Riverland Landscape Board Sustainable Water Team Leader Michael Cutting said the calculations for substituting groundwater were based on the salinity levels of River Murray water and groundwater, and the relative volumes of each needed to fill the dam while maintaining acceptable salinity levels.
"We knew the new storage dam would achieve water savings by being able to irrigate proactively rather than reactively, but the ability to utilise available groundwater was an added bonus", Mr Cutting said.
"It highlights the strategic importance that on-farm storage can provide, and the efficiency and productivity gains that can be achieved.
"A region like Langhorne Creek is reliant on irrigated agriculture.
"We want to ensure farms are as sustainable and adaptive as possible. This will have massive flow-on benefits for the regional economy and all the jobs that these industries support," Mr Cutting said.
The Water Efficiency Program is supported by the Murraylands and Riverland Landscape Board through funding from the Australian Government.
World Water Day, held on 22 March every year since 1993, celebrates water and raises awareness of the 2 billion people living without access to safe water. This year's theme is "Groundwater: making the invisible visible."